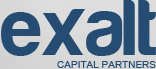 2200 Sand Hill Road, Menlo Park, 94025, USA
Exalt Capital Partners specializes in Private Equity and Venture Capital investing. We focus on investments across the globe in revenue-stage companies that have achieved market validation and are well-positioned to be leaders in their markets. Our particular emphasis is on the emerging markets.
Contact Us
| © 2010 All Rights Reserved, Exalt Capital Partners LLC.